Vortex Profits Review: Bitcoin mining and gold & oil trading Ponzi
Vortex Profits operate in the financial MLM niche.
The company claims to be headed up by CEO Griffin Wrights.
Other than generalities provided on the Vortex Profits website, there is no information available on Wrights.
This raises the question of whether he actually exists.
In an attempt to feign legitimacy, Vortex Profits provide an Irish incorporation number on their website.
The number corresponds with Vortex Profits Limited, which was incorporated on September 15th, 2017.
The address used to incorporate Vortex Profits Limited belongs to Company Formations International, who provide incorporation services for Ireland on their website.
Thus it appears Vortex Profits exists in Ireland in name only. And given this, it's safe to assume "Griffin Wrights" is a work of fiction.
This is supported by the presence of badly photoshopped stock images used to represent Wrights and Vortex Profits' purported office in Ireland: Through ELA, the image above demonstrates the high probability of manipulation of stock photos to include Vortex Profits logo.
Griffin Wrights himself is represented by a generic looking old white guy in a suit image.
It is far more likely whoever is running Vortex Profits is based out of Africa.
Alexa currently estimate the top four sources of traffic to the Vortex Profits website are Botswana (21%), Tanzania (20%), Nigeria (10%) and Ghana (10%).
The Vortex Profits website domain ("vortexprofits.com") was
As always, if an MLM company is not openly upfront about who is running or owns it, think long and hard about joining and/or handing over any money.
Vortex Profits Products
Vortex Profits has no retailable products or services, with affiliates only able to market Vortex Profits affiliate membership itself.
The Vortex Profits Compensation Plan
Vortex Profits affiliates invest funds on the promise of an advertised ROI.
Bitcoin Plan – invest $25 to $999 and receive a 2.5% daily ROI
Gold Plan – invest $1000 to $9999 and receive a 2.5% to 3.5% daily ROI
Oil Plan – invest $10,000 to $50,000 and receive a 3.5% to 4.5% daily ROI
Referral commissions on funds invested by downline affiliates are paid out down two levels of recruitment:
Bitcoin Plan affiliates are paid 5% on level 1 (personally recruited affiliates) and 1% on level 2
Gold Plan affiliates are paid 5% on level 1 and 2% on level 2
Oil Plan affiliates are paid 5% on level 1 and 3% on level 2
Residual Commissions
Vortex Profits pay residual commissions via a binary compensation structure.
A binary compensation structure places an affiliate at the top of a binary team, split into two sides (left and right):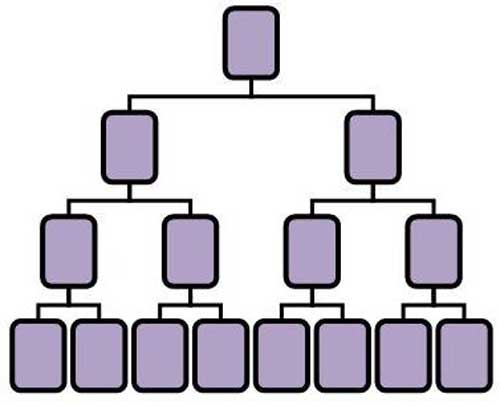 The first level of the binary team houses two positions. The second level of the binary team is generated by splitting these first two positions into another two positions each (4 positions).
Subsequent levels of the binary team are generated as required, with each new level housing twice as many positions as the previous level.
Positions in the binary team are filled via direct and indirect recruitment of affiliates. Note there is no limit to how deep a binary team can grow.
At the end of each day Vortex Profits tallies up new investment volume on both sides of the binary team.
Affiliates are paid a percentage of matched funds, based on how much they themselves have invested:
Bitcoin Plan affiliates are paid 10%, capped at $1500 a day
Gold Plan affiliates are paid 10%, capped at $5000 day and
Oil Plan affiliates are paid 10%, capped at $7500 a day
Once matched volume has been paid out on it is flushed. Unmatched volume on the stronger binary side is carried over.
Career Progression
Vortex Profits offer a bonus referral commission to their top recruiters.
recruit 50 affiliates who invest and receive an additional 1% referral commission
recruit 100 affiliates who invest and receive an additional 2% referral commission
recruit 300 affiliates who invest and receive an additional 3% referral commission
recruit 500 affiliates who invest and receive an additional 5% referral commission
recruit 750 affiliates who invest and receive an additional 6% referral commission
recruit 1000 affiliates who invest and receive an additional 7% referral commission
Joining Vortex Profits
Vortex Profits affiliate membership is tied to a $25 to $50,000 investment in one of their three offered plans.
Conclusion
Vortex Profits claim to generate external ROI revenue through bitcoin mining and gold and oil investments.
The company provides no evidence of any mining or trading taking place, or any other source of external revenue being used to pay affiliates with.
Furthermore Vortex Profits' claims fail the Ponzi logic test.
If Vortex Profits' anonymous owners were able to consistently generate a legitimate daily ROI of up to 4.5% (that's 1642% annually without compounding), why would they share that revenue with randoms over the internet?
Like everything else about Vortex Profits (non-existent CEO, fake company photos, virtual office etc.), its claims of external revenue are bogus.
The only verifiable source of revenue entering Vortex Profits is new affiliate investment.
Using newly invested funds to pay existing affiliates a daily ROI makes Vortex Profits a Ponzi scheme.
Referral commission tied to affiliate recruitment add an additional pyramid layer to the scheme.
As with all Ponzi schemes, once new affiliate recruitment dries up so too will new funds entering the scheme.
That will eventually starve Vortex Profits of ROI revenue, eventually prompting a collapse.
It's worth noting that Vortex Profits don't have a cap on ROI payouts, meaning those who run the company and signed up first are going to make off with the majority of funds invested (they've been receiving up to 4.5% daily since day 1.
In order for that to happen, everyone else loses out.