Responsive design…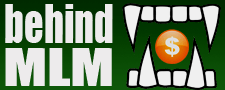 I implemented responsive design on BehindMLM a few years back and general consensus is that mobile users were happy with the desktop version of the site.
The sidebars are first to go and while I can have them below the article, due to their vertical layout it doesn't sit right.
Anyway since then mobile users can request a desktop version easily enough so I don't think it's much of an issue if I strip things down for a small screen visitors.
A few days ago I noticed Google showing me warnings about BehindMLM not being "mobile optimized" in its organic search results.
I already know this and by choice have ignored specifically catering to mobile users. Personally I get annoyed when I visit a site I'm used to reading on desktop, only to find the mobile version lacking.
The good news is BehindMLM isn't feature rich and my design philosophy remains "content first".
Some of you might have noticed me playing around with responsive design yesterday, that was me seeing what could go and how it'd affect the user interface.
I reverted any changes before calling it a night and slept on it. I had some ideas overnight and plan to spend today (and maybe tomorrow) getting it sorted.
I always knew sooner or later I'd have to address the mobile design issue, as Google continues to put greater emphasis on catering to smaller screens as part of ongoing SEO.
From what I learned yesterday, my plan is to basically start with the desktop version, start to shrink it and then implement design thresholds as the template goes wonky.
I can keep the top navigation, but the sidebars will go – hopefully with the exception of the search bar. Going to try to isolate that and move it to just above the article for smaller screens.
At the same threshold, I'll remove introduction text for each article on the homepage and just show the headers (including meta data, date, comments, categories, etc.).
With the exception of images defaulting to center once the display is too narrow to align them with text, article layout will remain the same. Comments below looked fine so that won't change either.
I'm also going to have to play around with advertising layout, as the way it's set up now is fixed for desktop width displays. That was causing me issues yesterday but I've come up with some ideas to manage it overnight.
Usability is still my primary concern, and ultimately if I'm not happy with the stripped down experience I'll just nuke it.
Personally I don't know how people read long-form 2000+ word articles on mobile devices but them's the times.
I own a Samsung S7 Edge and if I'm checking something out of the house, typically I just take a second to pinch zoom the article area to fit the screen. Works fine and I can scroll across to see the nav bars.
For smaller screens though I get it isn't as easy (text-size, resolution etc.). So that's what I'm hoping to address.
As it stands 51% of our traffic is mobile, compared to 42% desktop and 6% tablet. Last year desktop was higher and as long as that was the primary way people were consuming BehindMLM content I was happy to leave it be.
As readers you're probably finding this a bit boring but if I'm stuffing around with the design I'm not putting content together, so figured some of you'd appreciate a heads up.
Aside from YouTube I get annoyed pretty quickly going from a 27″ monitor to mobile screen so I try to avoid it as much as possible. I know some of you do use mobile as a primary browsing device, and I'd certainly appreciate any input you have to offer.
Thanks and if all goes well, we should be back to our regular programming by tomorrow.