JetCoin Review: Bitcoin doubler promising 200% ROI in 40-50 days
JetCoin provide no information on their website about who owns or runs the business.
The JetCoin website domain ("jet-coin.com") was privately registered on May 7th, 2017.
As always, if an MLM company is not openly upfront about who is running or owns it, think long and hard about joining and/or handing over any money.
JetCoin Products
JetCoin has no retailable products or services, with affiliates only able to market JetCoin affiliate membership itself.
The JetCoin Compensation Plan
JetCoin affiliates invest bitcoin on the promise of a 200% ROI in 40 to 50 days.
JetCoin offer a total of seven plans affiliates can invest in:
JC2 – 0.1 BTC
JC3 – 0.3 BTC
JC4 – 0.5 BTC
JC5 – 1 BTC
JC6 – 2 BTC
JC7 – 4 BTC
JC8 – 8 BTC
Note that affiliates who invest in the JC2 plan must wait eight days for any withdrawal requests to be honored. The JC3 plan has a three day waiting period and the JC4 plan four days.
The JC5 and higher plans are paid out within one day.
Residual Commissions
JetCoin pay residual commissions via a binary compensation structure.
A binary compensation structure places an affiliate at the top of a binary team, split into two sides (left and right):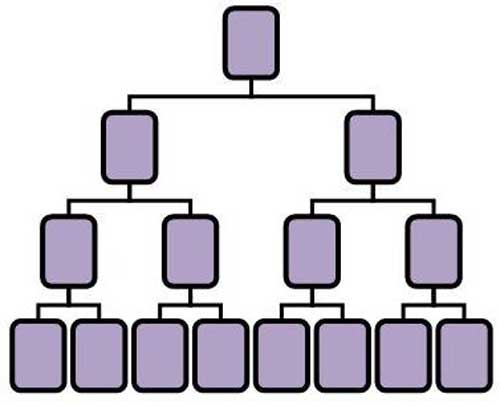 The first level of the binary team houses two positions. The second level of the binary team is generated by splitting these first two positions into another two positions each (4 positions).
Subsequent levels of the binary team are generated as required, with each new level housing twice as many positions as the previous level.
Positions in the binary team are filled via direct and indirect recruitment of affiliates. Note that there is no limit to how deep a binary team can grow.
At the end of each day JetCoin tally up new investment volume on both sides of the binary team.
Affiliates are paid a percentage of matched investment funds on both sides of the binary team, subject to the following daily and monthly caps:
JC1 (costs 0.05 BTC to sign up) – 9% binary commission, 0.1 BTC daily and 3 BTC monthly cap
JC2 – 10% binary commission, 0.2 BTC daily and 6 BTC monthly cap
JC3 – 11% binary commission, 0.6 BTC daily and 18 BTC monthly cap
JC4 – 12% binary commission, 1 BTC daily and 30 BTC monthly cap
JC5 – 18% binary commission, 2 BTC daily and 60 BTC monthly cap
JC6 – 20% binary commission, 4 BTC daily and 120 BTC monthly cap
JC7 – 22% binary commission, 8 BTC daily and 240 BTC monthly cap
JC8 – 25% binary commission, 20 BTC daily and 600 BTC monthly cap
Unmatched volume on the stronger binary side is carried over to the following day.
Joining JetCoin
JetCoin affiliate membership is tied to investment in one of seven offered plans:
JC2 – 0.1 BTC
JC3 – 0.3 BTC
JC4 – 0.5 BTC
JC5 – 1 BTC
JC6 – 2 BTC
JC7 – 4 BTC
JC8 – 8 BTC
A JC1 affiliate membership is also available for 0.05 BTC, however JC1 affiliates do not participate in the attached investment opportunity (see JetCoin compensation plan above).
Conclusion
Your first red flag with JetCoin is the 100% success guarantee provided on the company's website:
JetCoin was created as a way for 100% of people to succeed rather than 97% fail.
JetCoin is yet another entry into the bitcoin doubler niche, which started with GladiaCoin a few months ago.
The ruse behind bitcoin double scams is "trading". The scammers behind JetCoin are lazy enough to not even bother clarifying what trading they're supposedly undertaking, but do mention they've got "the sharpest minds in the industry" working for them.
Right.
Without proof of trading taking place, or any such trading providing a 200% ROI within 40 to 50 days, all JetCoin are doing is using newly invested funds to pay off existing investors.
This is Ponzi fraud, with referral commissions paid out adding an additional pyramid layer to the scheme.
Obviously a 200% ROI in less than two months isn't stable, with the doubler scam model typically collapsing anywhere after 75% of the initial maturity period is up.
GladiaCoin is a good example of this, with affiliate fees and desperate attempts to trap invested affiliate funds through higher volume plans recently introduced.
JetCoin is no different, with the scheme either collapsing outright or forced to introduce similar nonsense once invested funds run dry.