Exp Asset Review: $100 minimum investment bitcoin Ponzi scheme

Exp Asset provides no information on their website about who owns or runs the company.
The Exp Asset website domain ("expasset.com") was privately registered on March 10th, 2018.
On its website, Exp Asset claims to be incorporated in Nevis as Silesia Capital Management.
There is no legitimate reason for an MLM company to be incorporated in Nevis.
Common reasons jurisdictions like Nevis are chosen by MLM company owners include tax evasion, money laundering and corporate secrecy.
At the time of publication Alexa cites China as the largest source of traffic to the Exp Asset website (31%). The US (18%) and Korea follow closely behind.
It is highly likely that whoever is running Exp Asset is based out of one of these three countries.
As always, if an MLM company is not openly upfront about who is running or owns it, think long and hard about joining and/or handing over any money.
Exp Asset Products
Exp Asset has no retailable products or services, with affiliates only able to market Exp Asset affiliate membership itself.
The Exp Asset Compensation Plan
Exp Asset affiliates invest on the promise of a 1% ROI paid daily for 120 days (120% total ROI).
The minimum amount Exp Asset affiliates can invest at a time is $100, deposited in bitcoin.
Referral Commissions
Exp Asset affiliates who invest $1000 or more qualify for an 8% referral commission on funds invested by personally recruited affiliates.
Residual Commissions
Exp Asset pays residual commissions via a binary compensation structure.
A binary compensation structure places an affiliate at the top of a binary team, split into two sides (left and right):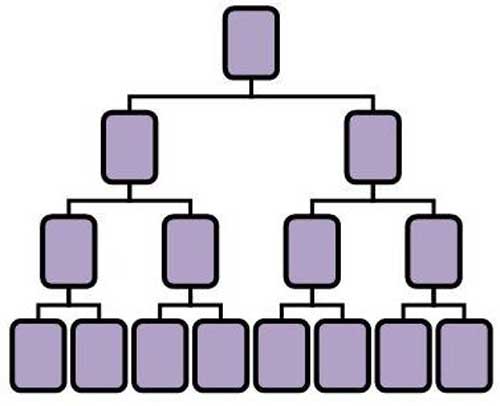 The first level of the binary team houses two positions. The second level of the binary team is generated by splitting these first two positions into another two positions each (4 positions).
Subsequent levels of the binary team are generated as required, with each new level housing twice as many positions as the previous level.
Positions in the binary team are filled via direct and indirect recruitment of affiliates. Note there is no limit to how deep a binary team can grow.
At the end of each day Exp Asset tallies up new investment volume on both sides of the binary team.
Affiliates are paid 10% of generated volume on their weaker binary team side.
Note that in order to qualify for residual commissions, an Exp Asset affiliate must recruit and maintain two active affiliate investors (one on each side of the binary team).
Joining Exp Asset
Exp Asset affiliate membership is free, however affiliates need to invest at least $100 to participate in the attached MLM opportunity.
Exp Asset investments expire every 120 days, after which an affiliate needs to reinvest in order to continue earning.
Note that all payments in and out of Exp Asset are made in bitcoin.
Conclusion
Exp Asset claims to generate external ROI revenue through
trading on financial markets, mining cryptocurrencies, trading on cryptocurrencies and making arbitrage.

In addition Exp Asset invests in start-up projects.
Naturally no evidence of Exp Asset undertaking any of these activities is provided.
Nor, by their own admission, is Exp Asset registered to offer securities in any jurisdiction they operate in.
What you're left with is a bog standard MLM cryptocurrency Ponzi scheme.
Exp Asset takes newly invested funds and uses them to pay existing affiliate investors a 120% ROI.
Referral and residual commissions add an additional pyramid layer to the scheme.
As with all MLM Ponzi schemes, a decline in affiliate recruitment will correspond with a decline in investment.
This will starve Exp Asset of ROI revenue, eventually prompting a collapse.
The math behind Ponzi schemes guarantees that when they collapse, the majority of investors lose money.