Bitcoin Jumps Above USD 12,000, Dominance Reaches December 2017 Level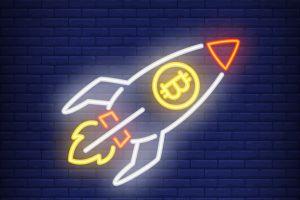 The most popular cryptocurrency, bitcoin continues its rally and just added another USD 1,000 in a day, surpassing the USD 12,000 mark.
Moreover, bitcoin dominance, or the percentage of the total market capitalization, reached 61%, the level last seen in December 2017, when the coin touched USD 20,000.
At pixel time (04:37 UTC), bitcoin trades at c. USD 12,228 and is up by more than 9% in the past 24 hours, 33% in the past week and more than 96% in the past 12 months. Last time it was at the level is January 2018.
Bitcoin price chart: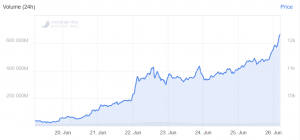 Major cryptocurrency exchange Binance said in a recent research that bitcoin is expected to continue dominating the market over the course of 2019, with over 50% of Binance VIP & Institutional clients indicating that they predict bitcoin dominance will remain in the 40%-60% range by the end of 2019.
_______________________________________
Watch the latest reports by Block TV.
_______________________________________
Money flow into bitcoin in the past 24 hours (in USD):
Tether: 4.07 billion
USD: 1.11 billion
Euro: 285.8 million
JPY: 258.34 million
CNY: 229.46 million
KRW: 82 million
GBP: 73 million
Source: Coinlib, (06:28 UTC)
_____
"This may be the most unpredictable market I've ever seen in Bitcoin. Don't lose bitcoins on greed. I genuinely have no idea what's about to happen," Francis Pouliot, CEO and co-founder of the Canadian exchange BullBitcoin, tweeted.
Meanwhile, ethereum is the second best performer among the top 10 coins by market capitalization. It advanced by more than 6% and trades at c. USD 332.
Other coins from the top 10 are registering up to 2% gains today.
___
Crypto flow from bitcoin into other coins in the past 24 hours (in USD):
Ethereum: 1.63 billion
Litecoin: 959 million
XRP: 504 million
EOS: 455 million
Bitcoin Cash: 391 million
NEO: 158 million
Zcash: 146 million
Source: Coinlib, (06:28 UTC)
___
The total market capitalization increased by almost 7%, to USD 357 billion.
As reported, bitcoin bulls are now pushing a new narrative and have started to discuss bitcoin at USD 100,000 more actively.
Reactions:
$12500🚀
FOMO is kicking in
Where was everyone when we were telling of the upcoming "mother of all" bull runs ?? 🧐

— George Kikvadze ⚡ (@BitfuryGeorge) June 26, 2019
____
When I hear people talking about a bitcoin "correction" I'm thinking $100k, maybe $1m. That's what's correct.

— Jesse Powell (@jespow) June 26, 2019
___
And who told you that. Deep in alts. history rhymes. It's all about ROI. The gamblers mentality.

— Castro_ xbt (@100XCrypto1) June 26, 2019
___
This will be known as the Okung rally; when the players rekt the bankers who were short CME futures. 😂 https://t.co/a4g0SWCy0F

— Ryan Selkis (@twobitidiot) June 26, 2019
___
FOMO

— Mia Tam (@_blockandchain_) June 26, 2019
___
I'm old enough to remember when bitcoin lost 90% of its value in 2018

— William Green @ Atlas Research (@AtlasAlphaTrade) June 26, 2019
___
There's no way this is being pumped by retail, fund managers or "institutional investors". Barely anyone is talking about it outside of the crypto sphere. Whoever is pumping and propping this shit up will inevitably pull the fucking rug when they've mopped up enough altcoin blood

— Nomadik (@Nomadik996) June 25, 2019
___
I've never been a "retracement is healthy" guy, but it kind of is right now. Okay, maybe bitcoin doesn't need to go down…. just chill out for awhile.

Why?

Crypto is mo-mo-momentum. Too high and it's a STEEP retrace, which can trigger a negative momentum cascade

— Crypto Quantamental (@CryptoQF) June 26, 2019
___
Let's clarify something really quick. People take BTC profits and put them into alts. (at least that was 2017-18 mindset). "good for alts" means selling BTC. Let's get that square. (again, 2017-18 mindset).

— ClintCrypto (@CTClintCrypto) June 26, 2019
__
Cool except history never repeats

— Sebastien Meunier (@sbmeunier) June 25, 2019