BehindMLM and the GDPR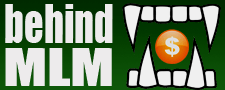 If you're like me you're sick of receiving and insta-deleting GDPR emails.
So I'll spare you the irritation of receiving another one and just address the GDPR and how it affects BehindMLM and your use of our website here.
GDPR stands for "General Data Protection Regulation". It's basically some bullshit Europe came up with to waste countless man-hours and billions of dollars of small businesses.
Bad actors aside (which regulation existed for prior to the GDPR anyway), now pretty much every website on the internet has to provide you with information on any data collected and stored.
We have to do it no matter how mundane or common-sense that process is, which is why you've been receiving a ton of emails about it.
BehindMLM doesn't operate out of the EU, nor do we do any business there.
Personally I couldn't give a crap about the GDPR but we do use some third-party services that are taking it seriously, so I felt it best to err on the side of caution.
I've updated BehindMLM's Privacy Policy, which now includes information on what information we collect and store, why we do it and for how long.
Before you file an $8 billion dollar lawsuit against us – if you have any further questions regarding your collected information with respect to the GDPR, leave them below and I'll do my best to answer them.
N.B. I'll be leaving this up for a week and then removing it.